Profesia.sk - Slovakia's biggest job portal, offering a wide set of different paid services both online and offline to its business clients decided to improve its offer and update prices that had been outdated after 15 years.
They asked Pricewise For guidance and support in the process as well as for a design of a more attractive and effective product offering for its clients.
Results:
10%
Revenue increase - all net profit
Pricewise
Among ALL STAR team of Profesia
Despite dramatic changes in the labor legislation in Slovakia at the end of 2012 the offering redesign brought in positive results. Besides literally a handful of lost clients, an increase of 10% of gross revenue (all net right into profit) was produced during the first year after the redesign was implemented.
Profesia.sk considers the pricing project from Pricewise as a major step forward in the 18 year history of the job portal. Therefore Pricewise has been included among the ALL-STAR team of Profesia.sk
HIGHLY PROFITABLE REPRICING
Dalibor Jakuš,
Business Development Director, Profesia.sk
"Cooperation with Pricewise has surely brought us a fresh insight into and alternative opinion about our business and our product offer. We have received surprisingly broad set of very relevant data and information about who our clients are, how they use our services and how they behave in commercial negotiation. Even though we have decided to completely redesign our offer and introduced a dramatic change to our clients, they accepted it and we met results we optimistically hoped for at the beginning. Cooperation with Pricewise was a first cooperation in our company's history when an external advice really improved our business."

Ivana Molnárová,
Výkonná riaditeľka, Profesia.sk
"Cooperation with Pricewise satisfies us because even though that the conditions of the Slovak economy are far from optimistic, our company is able to meet the financial targets set by our new Finnish owner thanks to the cooperation. Choosing Pricewise was the right decision and we plan to deploy further innovations - e.g. our new loyalty program - using their professional guidance and abilities."
PROJECT GOAL
Optimize the offer and pricing structure of key service with the aim to increase overall revenue and profit without significant loss of customers and their revenues.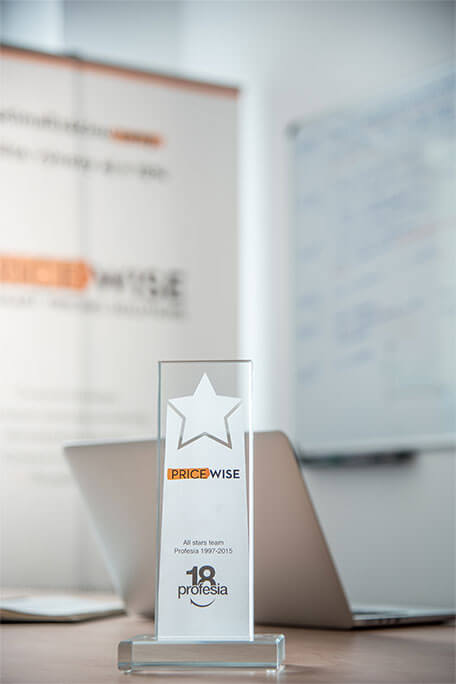 "Profesia All Star award was given to limited number of companies for extraordinary contribution to Profesia's business development."
CHALLENGES & APPROACH
Step 1: Build an attractive and effective pricing structure alternatives
The key initial phase consisted of identifying relevant client segments and suitable value monetization techniques. An extensive segmentation study about how clients use the products was delivered, paired with an all-around-the-world best-practice benchmark study and was followed by few rounds of cross-functional innovation workshops. Outcome was a short list of substantial offer redesign alternatives for all relevant client segments.
Step 2: Test them all with your clients
Because there was no second chance, the new offering had to be working at the very first time. Thus it had to be tested before it was actually offered officially. This was done by a client survey for each relevant client segment specifically. The survey brought insightful answers due to innovative presentation of the offering alternatives and asking indirect purchase related questions instead of direct ones. The outcome was a potential demand modelling winner monetization techniques for each segment.
Step 3: Put all the details together
After deciding about the principles the very details of new offering had to be designed. This was done by implementing value-for-money communication principles and effective pricing page principles into the new offering of Profesia. Before the final graphic design was created a detail check of revenue-change-per-client was delivered and smoothened some of the more extreme pricing change proposals.
Step 4: Don't forget about your front men and start small
Finally, before publishing the new offering, the sales staff was given negotiation training and tools to handle clients' objections. Together with new, simpler and transparent rules of retention discounts, they started with a trial of some 100 clients. Based on the results, a few minor changes in the offering, tools and rules were made and new offering rolled out.